Does anyone else find it strange that after Nelson hints at Morrow starting and putting CJ Watson over Stephen Curry that he is sent to the bench as a role player again? I think it's ridiculous cause after one good preseason game Curry is named the starting point guard. Yes he is a great passer but he is not ready to start and and he is not strong enough to guard a two and neither is Monta. Morrow works his butt off all season, plays amazing in the summer league, comes into camp and is always with the first team, is amazing in the preseason and then with one game where Curry found his shot a little more he is demoted. Morrow gives us size, rebounding and of course the best shooter in the game. His game has expanded to the point now that he is able to take people off the dribble. His defense has improved a lot since last year and has the drive about him that was present with the team during the We Believe season. Curry *eventually* should start but just not now. And Ellis actually played very well at point guard in the preseason and seemed very capable of guarding a *point* guard.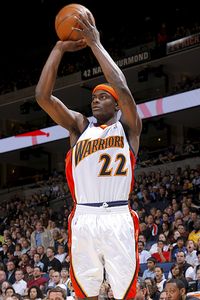 That shot went in....
  Even Azubukie gives us more size. Are we forgetting that he almost averaged 15 PPG? The truth is that I think Don Nelson was just to tempted not to put in Ellis and Curry and he needs to realize that for now Ammo and Ellis are a better back court then Curry and Ellis. I'm not opposed to starting Curry against certain teams that have smaller guards like a Dallas with Kidd and Terry but against a team like the Lakers with Kobe and Fisher we stand a better chance with Morrow in rather then Curry. His shot has looked bad as well and I know it's preaseason but he seems to be thinking to much when he shoots. I hope Curry proves me wrong and shows me that this lineup can work on a nightly bases but for now I say Anthony Morrow should be our starter. 
Is it Wednesday yet?