OK....so I have been meaning to post this for a long time now, since I learned last year that the Warriors would in fact be changing their logo/uniform designs for the 2010/2011 season and recent discussion in a couple of threads has forced me to get off my backside and post it.
It would seem opportune that as the Warriors marketing department head chap, does not seem to have the brains to ask the very people who will be buying the merchandise (the fans) far enough in advance, what their opinions might be on this, that WE, the mighty GSOM community...will do our bit to let fans show their ideas and thoughts on what the team should look like for next year, thus helping the rudderless marketing department with probably the most important decision in a timely fashion.
So....2010/2011.... Is this the big year of change for the Golden State Warriors? Who knows what the product on the floor will look like, who knows who will be playing for us (C'mon Wade...you know you want to!), Who knows if Mr Ellison can be persuaded to buy the franchise from an owner who clearly has such little regard for his fanbase that he never bothers once during this whole farce of a season, to thank them for their support in what has been an even worse year than last year.....
Who knows if Nellie will be here? Who knows if we will ever get mascot back??? (Again total marketing department FAIL)....
Anyhoo....moving on to the point of the post.......
This is Unofficial obviously...and NO, I have no wish to step on the toes our the mighty impressive Mr Tony.psd (and in fact hope he may create a proper professional version of any design which seems most popular...! nudge nudge wink wink Tony)...but I thought we could use this thread for people to post their design ideas for a new logo and discuss uniforms...
So I will kick off this process with my 'attempts' to try and create an image which is what the Warriors mean to me personally....
As with GSOM..I feel the name tells everyone we are part of the 'Golden State' so therefore, that deserves to be part of our logo... Obviously this is basketball...and the team is called the Warriors... so I decided to create a "Warrior Helmet" ...from a basketball! ;-) How you position this...or how big it is, colours, fonts used etc are open to interpretation.. But I really liked the principle so here are my Logo attempts...
(Basketball Helmet design is subject to trademark - BritWarriorGSW)  
 Option 1                                                                    Option2
Option 3                                                                      Option 4
Option 5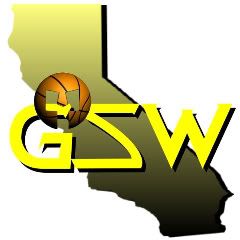 My New Favourite option...
 As I said...not Tony.psd standard...but it gets the ideas across.
Basically, I want us to get away from the whole 'lightening bolt' 'thunder' 'Orange'thing....complete change time.
UPDATED - 16th Feb 2010
UNIFORMS:
Whilst the above would be the logo for shorts, franchise, etc, I actually liked the ideas put foward that the new Uniforms should hark back to days gone by..but with a modern twist. I think there should be 3 different unifoms:
Home Uniform - Black FTW.... I think if GSW is going to mean business, then let's look MEAN!  Unfortunately it seems we may not be permitted to run a Black home jersey.... so lets go with the popular vote and stick with the traditional colours?! Maybe Yellow and Royal blue for the home jerseys....
The second Uniform, or first Away option....would be a reverse of the home, so Royal Blue main colour and Yellow trim/lettering.
For the third uniform, I would revert to the White uniform that many loved Mully and Co in .....
As posters have previously suggested, I think we should have the main logo on the home jerseys, with the new Bay Bridge 'City' style Blue Jerseys with  'The Bay' as the top and bottom of the circle, thus keeping our links to the great teams of the past, then the White Jersey should simply run 'Warriors' across the front in the new font....
So that is my suggestions.... its now over to you.....
Create your own logo's/designs and post them up... make your uniform suggestions...then if there seems to be a consensus to a most favoured option....maybe Tony will create an original and we can present our ideas to the Warriors FO...BEFORE they make a decision and simply TELL US, what we are going to get..and possibly BEFORE they pay some fancy marketing agency a large sum of money to create something that might possibly come for free, from a loyal fan....
Can you imagine the honour it would be, to have your idea/design adopted for the team you support!
So...over to you....the people that matter....the people that will actually BUY the merchandise... Have fun!