Okay so on Thursday I am going travelling for three months. I'll be missing the draft lottery, the draft, many of the sensible trade ideas you guys come up with and the silly trades that may occur instead.
So I thought I'd make one last post about how I think the team can improve over the coming months to cater to the skills and potential of Stephen Curry, and why this team has more potential than we seem to be giving them credit for.
Before I get into a position by position analysis I want to say that this:
'Nellieball' needs to be disregarded as our basketball philosophy going into the summer. I don't care if Don Nelson's going to be our coach next season, any team created for Nellieball will never be succesful. Just watching our team play defense can be painful. We double team people in the post but frequently no one rotates to the open man and we give up an open 3. Every position where I have talked about what we need, I have done this under the assumption that a SG/SF won't be playing at PF and that our team needs players with roles that compliment Curry as the man. Rather than a system of iso's resulting in the mismatches that Don Nelson creates on offense, Curry should be creating plays in a set offense similar to every other team in the league.
(NOTE: I'm using this post to discuss who should be starting for the Warriors. I don't think it's so important to talk about every role player and every trade proposal to get them. We've seen with teams like Cleveland for example that it's relatively easy to acquire a bunch of solid role players via free agency if you've got a rich owner willing to throw about the Mid Level Exception every year. Come on Larry Ellison)
Point guard
What we have here in Stephen Curry:
1. Playmaking - In my mind the most important part of being a point guard. If Steph is going to carry on averaging the 7-8 assists that he's been averaging in the last 3 months whilst moving the ball around on offense, we are set.
2. A permanent residence in J-town - Shooting 44% on your 3's whist shooting them 5 times a game is ridiculous, especially considering he shoots a lot of the dribble, not necessarily on open spot ups. 
3. Decent defense - Now he's not the best defender, but at 6 ft 3 he has good length for the point guard position and he should bulk up in future. He's got good hands which he shows by being top 4 in the league in steals. He also has good awareness of when to double team bigs in the post, its just there doesn't seem to be any defensive system to account for when he does it. This usually leads to an open 3 as no one knows where to rotate to. However he is particularly bad at the moment at fighting through screens. This is partly due to a lack of communication on defense, he always seems to be unaware of the impending screen set on him. This means we need longer, shot blocking bigs to cover for him once he's been beaten as well as vocal leaders at the back.
4. A team player - In the future there's a chance he may not be the best player on our team. Hopefully we get a quality big and wing to go with him. However we know with him that he will always be willing to buy into the team philosophy that helps us win. We saw him earn his status as a leader on this team as the season went on after being frozen out by two of our vets at the start. This is the kind of personality I want in our team.
Shooting Guard and Small Forward
I see these two positions as being linked going forward. I hope that going forward the template for our backcourt is something along the lines of the Thunder or the Nuggets. A quality point guard who can facilitate and score, and at the other two spots:
OPTION 1 A scorer who can get to the rim and the free throw line whilst working off the ball (this player should in no way be a liability on defence....Rudy Gay i'm looking at you)
OPTION 2 A player who's a good wing defender who can defend the opposing teams best player whilst knocking down open jump shots (no reason these two options can't be the same player, its just there are few of them and we're unlikely to get one anytime soon)
TERMS AND CONDITIONS APPLY It's important that none of these players are selfish and disrupt the ball movement on offense. Maggette is a ridiculously efficient scorer but he hurts our other players too much. It's great that he can get 20 points per game on about 14 shots, but as I said in my article about who will be the better player. While one player may score 20 points very efficiently, if they're dominating the ball they're hindering the ability of the rest of the team to score the other 70-80 points a game they need to win. Players need to be kept involved to stop them from becoming a passive part of the game. When the ball arrives to them and they get the open look they need to be ready.
I don't think it really matters whether the scorer/ slasher is at the 3 like with the Thunder and Nuggets and vice versa for defensive specialists. It also doesn't matter if we don't have a scorer who can get 27-30 points a game like 'Melo and Durant, as Curry is more than capable of accounting for about 22 points per game, unlike Billups and Westbrook who average 19.5 and 16 points respectively.

Which players would fit this system - 
Monta Ellis (scoring 2) - This I understand is a hard sell to some. He had one of the most disappointing 26 ppg seasons ever whilst dominating the ball and appearing to freeze out Curry for large parts of the season. However we mustn't forget that he was the perfect off the ball player two years ago when he scored 20 ppg on 53% FG%. If he goes back to this sort of form, which we saw in the final game against Portland, I see no reason why he can't be our scoring wing. He has said he wants to do whatever it takes to win and if this holds up we have a ready made player who fits us in every sense except for the fact he is undersized.
Raja Bell (complimentary 2 or 3) - I like this proposal. Good D, good 3 point shooter. He's said he's willing to resign with us and so I see no reason why we shouldn't try and get him. Whatever happens he'd be a great 6th man to have.
Rudy Gay (scoring 3) - I'm not really sold on Rudy Gay if i'm going to be honest. He shoots slightly more efficiently than Monta and he would add size at the 3. However he is an even worse defender in my opinion. I can remember one example in particular that illustrated his poor D. He was defending on the wing, someone came over to set a screen on him. He looked towards the screen, wondering how best to approach it. "Do I go under it as my man's unlikely to pull up for the shot? Do I try and fight through the screen, knowing my guy may get a step on me and head to the basket?" Anyway none of that mattered because his man had already blown by him on his other side for a dunk. Gay literally had no idea any of this was going on around him. We'd also probably have to pay him around 10-12m a season, just for a player who's more flawed than Monta. Do we really want another expensive contract that we'll inevitably want to be free of by the end of next season (i.e. Maggette, Biedrins, Monta).
Andre Igoudala (a bit of both) - A good slasher and decent shooter who's also unselfish. However his best quality would be his defence. He'd be a great 3 in a system of Curry | Bell or Monta | Igoudala. A big problem however is his contract (6 years, $80m). He's got to be a special player to deserve that and I'm not sure he is.
Kelenna Azubuike (complimentary 3) - No matter what happens, whether he starts or comes of the bench, we have nothing to complain about with him at the 3. He made 44.8% of his 3's in his last full season, showed solid defensive play and an improved game attacking the basket. Furthermore he's born in London, England. 
Reggie Williams (Complimentary 2 or 3) - He's shown a good all-round game this season with his shooting, ball-handling, solid passing and decent abilities attacking the rim. At worst he is a solid role player for us next season though some doubt whether he will be a quality NBA starter.
In my mind the simplest and most likely combination of these two options will be Monta at the 2 and Azubuike at the 3 for the time being. I think Monta has one last shot to show he can coexist with Curry, and maybe, just maybe our team will be the better for it in the long run.
Power Forward and Center
Like with Shooting Guard and Small Forward, I think what we need from these positions is linked. 
From one of these positions we need someone who can play the pick and roll with Curry. Curry's ability to find the big on the pick and roll is one of his best attributes. Unfortunately we have seen Tolliver and Turiaf have a habit of dropping Curry's passes. We also need a big who adds some beef in the low post, can be an outlet under the basket so we can work some offense from the inside out, and can hang out under the glass to grab the offensive rebounds.
Now this is where we have to make a decision. Biedrins and Randolph can both fulfil one of these roles but not the other. However they play different positions, so in order to have a complete frontcourt one of can stay but the other has to go.
So who should our Power Forward be in the future?
Anthony Randolph. 
He has the length and athleticism to grab the alley-oop pass from Curry and the handles to corral passes in traffic . He's also improving his finishing at the rim.
Furthermore he is not afraid to shoot free throws. He averages 4.1 free throws in 22.7 minutes and shoots them at 80%. I don't even need to get into Biedrins woes, but I don't see him being the same player as he was before and to be honest whilst Biedrins shooting 50% at the line would be a miracle, it would still make him a massive liability. 
Randolph averaged 11.5 rebounds per 40 minutes last season which is pretty strong for a PF who still has a lot of weight to be added. While Biedrins averaged 13.6 rebounds per 40 minutes, his rebounding numbers are not exceptionally good so as to outweigh his deficiencies in scoring and defending the Centers of this league. He is as weak comparatively for the center position as Randolph is for the Power Forward position, however Randolph is 4 years younger and so will probably catch up with him weight-wise in the near future. 
Randolph also averages 20.5 points per 40 minutes. As he gets more efficient in the future with his improved mid-range game and better selection of when to drive and when to pass he will be a 20-10 threat every game.
Just read "Something I just have to say about Anthony Randolph" and get excited. To quote from Dubs hoops: 
 

Let me break down the numbers to this:

yr.    age          mpg

R:     19           17.9     7.9ppg 5.8rpg

1:      20           22.7     11.6ppg 6.5rpg

He's twenty years old and gets roughly 23 minutes a game. Those are really bad minutes.

Now let's look at CB4.

yr.    age          mpg

R:     20            33.5    11.4ppg 7.4rpg

1:      21           37.2     16.8ppg 8.9rpg

 

This is crazy. Look at Randolph's numbers at age 20 and Bosh's numbers at the same age.

Randolph gets almost 11mpg less than Bosh did at the same age, yet relatively the same numbers.

Does anyone know what his numbers per 36 minutes are?

He's at 19ppg and over 10rpg in 36 minutes...a 20-10 player...at age 20! That's crazy!

 
He's so good his own team-mates just want to touch him
If we were to keep Biedrins and get ourselves a power forward who plays in the post mainly, say Brandon Wright. We would end up running Biedrins on the pick and roll, leaving only a lightweight PF to grab the offensive rebound. Isn't it much better to have your PF running the pick and roll so you can leave your big beefy center down low to grab the offensive rebound or dish the ball to.
Randolph also has the potential to be a phenomenal defensive player. 1.5 blocks in 23 minutes, remember that Dwight Howard leads the league with 2.8 in 12 more minutes. He's got amazing length and hops, and if he were to get consistent minutes he would learn how to lead the defense from the back and help Curry prepare for the screens set on him.
Just remember when he doesn't play like a superstar next year, he's only 20 now. He's shown his potential in his per 36 numbers, now let him learn how to stay out of foul trouble and become a more efficient scorer. Give him time, let this team develop as it is, and whatever happens, there is no excuse for starting Mikki Moore ahead of him. Ever.
So what does this mean we need at the center position - 
More than anything we need beef. Now where are we going to find it. Emeka Okafor is a suggestion, but just have a peek at his contract and you'll think twice. Now I've been going on about this regularly in my posts, but....              
There are two players who may be perfect for us going into the future who may be available:
Demarcus Cousins. One of the most productive centers in the NCAA over the last decade, yet he's only 19. He's a great rebounder at the NCAA level which is important as rebounding is considered one of the attributes of a player that carries over from college to the NBA. Looking at the strengths Draft Express lists, they are just what we need, and just what we don't have from our centers:
Ability to establish position in the post
Back to basket scoring
Nimble footwork
Ability to create his own shot
Mid-range game (If Biedrins is making 16% of his free throws do you think he'd be able to make a mid-range shot in a game)
Defensive post presence 
Size for position
The other option: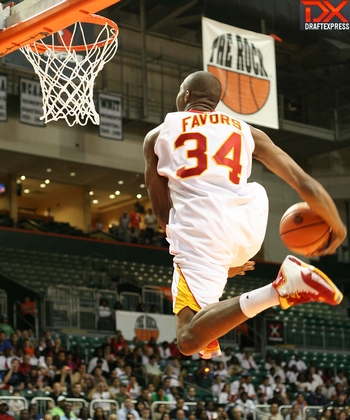 Derrick Favors. This guy may not be as good as Cousins is right now, but boy does he have some potential. A quick look at what DraftExpress and nbadraft.net have to say about him:
Explosive athlete with unique combination of power and quickness... tremendous leaping ability... soft hands
Has made dramatic advancement in his post game... cat quick in the post
Absolute vacuum on the offensive and defensive backboards
Excellent student and quick learner...unselfish...young (18 years old, almost a year younger than Cousins)
Defensive fundamentals... defensive potential... pick and roll defense... shot-blocking skills
This guy seems to be perfect if he grows the extra inch and a half that would get him to about 6 ft 10/11 and gets up to about 250-260 pounds. One of our biggest needs is defending in the post and good pick and roll defense to make up for Curry's problems getting through screens. This guy brings it as an 18/19 year old. He'd be an upgrade over Biedrins in every way and would come into the league as a good defensive player with an age to improve. My only worry is his ability in the post. There's no guarentee he learns to play in the post and if he doesn't we may be stuck with two bigs in him and Randolph who can't really do one of the most fundamental things we need one of our bigs to be able to do.
Sure Cousins has problems with his mentality and Favors is not yet the finished article, and obviously no one coming out of the NCAA is a sure thing to succeed at NBA level. But I think considering the only kind of players we could realistically get are average yet overpaid (Okafor), surely it's worth doing everything possible to get one of these guys who would be on their rookie contracts. 
We absolutely need a player who we can throw the ball into in the post and trust them to make something happen. These guys in my opinion may fit everything we need from a center, yet may be available to us in the draft. I know Turner is a very popular pick, but looking back in a couple of years, if we draft Turner, I think that:
We will still not have the center that we need. How easy are these guys to find and build around. Center is seen as the most or second most important position in the game along with the primary ball-handler. We have Curry as our ball-handler so do we really need to get another guy who thrives as a ball-handler able to initiate the offense.
Cousins and Favors will most likely end up as better players. Attitude issues aside Cousins is 2 years younger yet is putting up comparable numbers to Turner accounting for their positions. Favors is 3 years younger and yet has shown he has more potential than both of them,
Pray these guys fall into our lap in the draft. Pray.

In Hope We Look at the Oklahoma City Thunder
They have a young core of Westbrook/Durant/Green. Now I don't see us getting a player who can be in the same league as Durant. However if you combine the core 4 players we could have next year, we will have a team with the potential to achieve what they are achieving now, in the future with the right coach.
Curry can be a better PG than Westbrook. He already scores more yet much more efficiently, and also if we assume he'll continue his 7-8 assists per game into next season he'll be equalling Westbrook on that end to. Remember that with players like Randolph and Cousins his assists will probably increase even more.
Providing Ellis goes off the ball (no guarantees) we'll be getting about 20 points per game at a decent clip. He can be our designated Durant comparison. He may score about 10 less than Durant but this can be made up by the extra production Curry, Randolph and Cousins give us compared to the Thunders core. However I must add, OKC just by having a player like Durant on their roster are the better for it. Therefore its not fair to suggest that the only benefit Durant has as a scorer over a player like Ellis would be the extra 10 ppg. Those extra 10 ppg make him a superstar and teams with superstars are entirely different propositions than teams without. 
Randolph is a legitimate Power Forward next season if he bulks up and so will provide defense and inside scoring that Jeff Green can't, along with his numbers beginning to gravitate towards the 19 and 10 his per 36 numbers suggest he can achieve.
Then we get onto players like Cousins and Favors. Were we to get one of them we would have the inside post presence OKC doesn't have. I think it's a shame for them that they couldn't get in another season of 20 wins so they could get one of these guys, as they would be unstoppable with a great center. They'd be more than a match for a Cleveland team with Lebron.
Most important however is that we get a new coach, who stresses team defence and gives Randolph a chance to shine. I'm not saying next season we're going to make the playoffs. Just that we should be optimistic going forward that in the next couple of years we will have a team that fits well together and wins. With new ownership this may be the first promising Golden State team in a while that isn't broken up by our management.
The future





   or   
In 3 months when I have been to Asia, Australia, New Zealand and Fiji and I arrive in San Francisco, this is the team I want to see, I want to walk into the big sports store in the Bay and see Curry, Ellis, Randolph and Cousins/ Favors shirts lining the walls. I'll return to England all the more excited about next season for it. 

Remember this is a post to talk about what I think the team needs role-wise from each position, as much as what kind of players I think we need. So what do you guys think? Any disagreements with the kind of roles I want from the players at these positions? Also what players should I add as realistic targets for these positions?