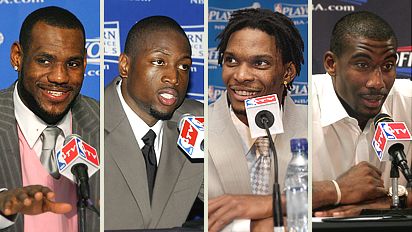 I originally loved the idea that so many elite players are considering playing musical chairs with the teams in the league.  However, I think I'm looking at this from a different perspective now....
Ok...now, I love the off season(Because I'm a Warriors fan), it's an opportunity to improve your team, not matter if your a Minny Fan, or a Lakers fan, you'll see all fans hitting up the ESPN Trade machine trying to work out trades that will magically mean immediate success for the coming season. It's a time of hope that THIS will be the year that your team turns that corner into a playoff contender or championship hopeful.
But I think we all agree this year is different.
I don't remember any other period when so many top tier/elite FA's we're either free to roam and explore the options out there, simply jumped ship in order to find greener pastures.  Under any other circumstances the fans of the league should be elated at the opportunity to see if their squad could make a move to land any one of these guys. But we also all know that this isn't the case.  Being that these players have been able to communicate and plot within themselves to go "Voltron" on us and create a huge, sword wielding super-bot only means that the rest of the teams in the league will be hard pressed to have any real shot at taking their division, much less a championship.
In a league where in the last 30 years, we've seen the same 4-5 teams take home the championship, speckled with a few teams like Miami's one and done year, how could this possibly be good news for the rest of us? The fans of those sub-par teams (like us) can now only have pipe dreams of reaching the playoffs, much less actually standing a chance of going for it all.  Even those teams that generally make the playoffs year to year have fans that have to realize that it'll that much less likely it'll happen. 
I know the concept is far from setting a precedent, we've seen what the "Big 3" have been able to provide a Celtic teams that was just flapping in the wind. But KG and Jesus Shuttleworth were far from being in their prime, though obviously still very effective as a tandem, they paid their dues by bringing a competitive chance to the T-Wolves and the Sonics in the playoffs, respectively. 
And even prior to that, the last ditch efforts of Malone and Payton trying to get a ring w/ the Lakers. Though they faltered since it was in the twilight of their careers and the ring was the only thing missing.
As fans, we want to win, we want the playoffs, we want a championship. But with the BEST players in the sport collaborating to make 1 or 2 lucky cities in the league the unquestioned favorites to win it all, with MAX contract around 6 years a piece.  Most small market teams or teams in not so "prime" locations won't have much to look forward to for the next half decade, and then some as it'll just happen again. 
What do you guys think? I understand if you don't see that way one bit. But how does it make you feel as fan who wants to have a winning team?