Warriors, Hornets, Pacers in Amundson hunt  <-- click on link for ESPN blog story
Foul on Frye, nice stuff by Lou!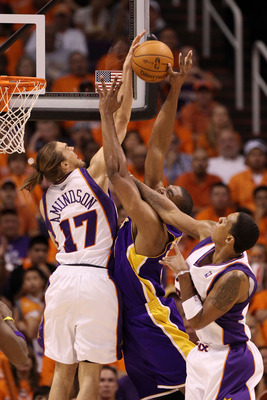 Good news fans, looks like the Warriors are actively pursuing the most eligible big man FA still available. But, like the sensitive guy on the Bachelorette, the Warriors are facing some sexier competition. And I for one, am not sure that the Warriors can get this deal done.
As reflected in numerous posts already this summer, Amundson would be a good pick-up for the Dubs. We lost our biggest hustler (in Turiaf) this summer, and with B Wright's shoulder still apparently made out of chalk and duct tape, we could really use some additional depth in our front court. And even though he's only listed at 6'9", the boys got enough hops to protect the rim.
4.7 points, 4.4 rebounds and just under one block in about 15 minutes per game last season, sounds like a great 6th or 7th man to bring in off the bench!
Brining Lou in would also prepare the team for the eventual dealing of either B Wright or Beidrens, but this may be crediting the team with too much foresight!
I would guess that the "un-named team" mentioned in the article above is probably the Nuggets, since they like to bring back their hometown boys (Chauncey!!)...but that is just my flat-out guess
I would rather have AR back!!