It's tough being part of Warriors Nation. All the losing, all the dumb moves, all the well... sucking. But Golden State of Mind is all about being positive. Instead of focusing on the negative, let's take a look at why each of the Warriors are the best at whatever they do well.
Andris Biendrins: This kid easily has the best fouls/second (not minute) ratio in the entire NBA!
Zarko Cabarkapa: Zarko's the best player from Serbia in the NBA who looks like Jay Leno!
Calbert Cheaney: Most people talk about players who bring energy off the bench. Well, towel brings the best energy in the league on the bench!
Baron Davis: If Foyle could make layups and Dunleavy could make open shots, Boom Deazy would have the best dime numbers in the league!
Ike Diogu: The best player named Ikechukwa in the league!
Mike Dunleavy: Quite frankly Warriors Nation can't stand the guy, BUT he has the best agent in the league! 44 million for being a bust AND regressing? That's just impressive no matter how you look at it.
Monta Ellis: The best high schooler from the 2005 draft!
Derek Fisher: He's never met an off balance shot attempt he didn't like, but Fish is the best player in the league at making a shot with 0.4 seconds!
Adonal Foyle: Our longest tenured Warrior is the best authority on campaign finance reform in the NBA!
Troy Murphy: Fantasy Junkie and I were actually talking about this the other day and came to this conclusion- T-Double is the best American born white player in the league! (I dare you to name someone better)
Mickael Pietrus: The best French dunker in the NBA!
Chris Taft: He's the best at being Taftacular in the entire association!
Jason Richardson: JRich is the league's best in-game dunker!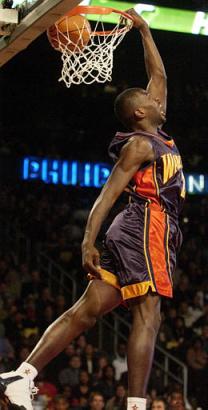 Golden State of Mind: We're the best at being the king of the super-duper-hyphy-hyphy!
Track of the day: San Quinn- "Hell Yeah"