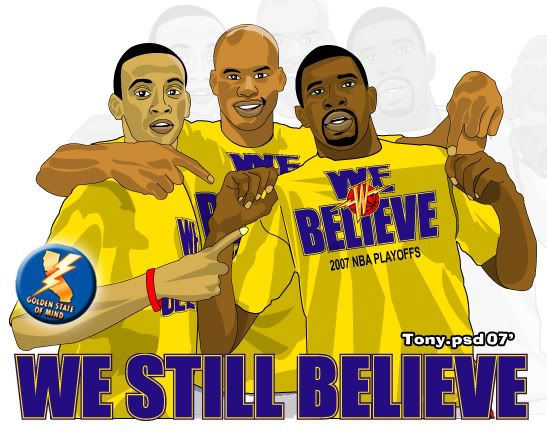 The sweet taste of victory.
(Illustrated by Tony.psd exclusively for GSoM!)
So many things went down during the NBA 2007 playoffs for the Dubz that I don't even know where to begin. Highlight after highlight, the Bay Area came together and showed the world that "We Believed." (Thanks to that awesome guy Paul Wong who started throwing up his We Believe Playoff signs!) One of my absolute favorite moments during the playoffs was after the Dubz defeated Dallas in our home to end the series (see Game 6 Recap | Post Game Links). Various GSW players came out and celebrated with the crowd and this picture came up of Monta, Al and J-Rich sporting the "We Believe" shirts we came to love. This moment was very special to many of us because it was a victory well deserved. Just being a part of that celebration and win meant a lot to all of us and opened the doors to a new era in GSW Basketball.
I took the time to recapture one of GSW's finest hours (with more to come of course!). It's not a spectacular dunk or acrobatic pose, but it's an illustration of happiness, success and pride. I could look at over and over again. It's some thing I've really been wanting to do. A picture can tell a bunch of different stories. For me this tells the tale of an 8th seed stomping over a 1st seed. Prior to the October 30th opening game vs. Utah aka GSoM Night II, as usual I will be constructing a number of sign designs for my wife and I to represent all over the Roaracle Arena. This is one of those signs I want rep opening night... as a preview of more things to come!


Coming soon... a segment on making your own dope GSW signs
so we can all represent (the poor man's way!) all season long starting with GSoM Night opening night!

Here's some fresh wallpapers for your desktop: