Straight outta' Tony.psd's selection of favorite flicks!
I love movies. All kinds too- action, martial arts, B-rated, zombie movies, killer animal movies, mobster, hip-hop action, hoops, you name it. Pretty much every time I contribute something to GSoM a movie's playing. Ideas come out and thoughts of "What would our fellow Dubz players look like in this movie...?" would take place... As I delve into more Photoshop related projects, I wanted to have fun (as always!) and get our players in some of my favorite movies. We've seen so many parodies already for 300, Ninja Turtles, and Rambo (which are all fun!) now lets see a couple of odd ball selections from Tony.psd himself featuring GSW. Let's not get too critical, this project was all in the aspect of getting heads to giggle out loud a little.
4 GSW movie posters plus a little Kanye West bonus after the jump. Enjoy!

"Hot Dubz" (Hot Fuzz): Starring Matt Barnes and Don Nelson. For me, Hot Fuzz was one of my favorite movies of '07 if not my list of favorite movies ever made. It's a tribute to the American Action Genre (movies like Point Break and Bad Boys). The comedy is slapstick style with a solid story, and the action scenes are incredibly entertaining and humorous. It's a tribute to guns blazing!
For the longest time, I wanted to spoof the cover and flip the name to "Hot Dubz!" Seeing Nelli and Barnes as the Heroes in an interesting line up. The fun part to the poster is just changing the names and tag lines. Check em' out!


 "Blade 2" starring Mickael Pietrus. Another one of my favorite films and just in time for Halloween! Blade 2 was my favorite of the Blade series. It's directed by Guillermo Del Toro, the guy who did Hellboy and Pan's Labyrinth. He just has an eye for special effects and creepy story telling. This one features our man Air France wielding the blade against the Vampire nation. When I saw this pic and headshot, I put it together and it fit nicely.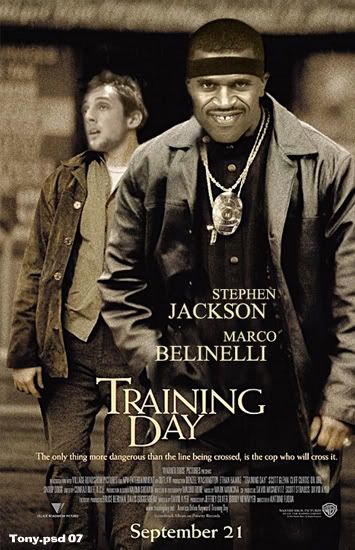 "Training Day" starring Stephen Jackson and Marco Belinelli. I absolutely love this movie! Everything about is off the chain! Denzel acting as a bad guy is one of the best performances I've seen from him to date. The poster featuring Stephen and Marco is a love and hate project for me. Jackson's head looks off no doubt, but it was one of my favorite pics I wanted to use and just had to use. After 20 minutes toying with it I realized it's all fun in nature. Marco was cool, I just think he looks a little drunk in the backdrop. The tricky part was matching the facial tones to the grainy texture the poster had. The poster was a 2 color duotone, so I made their faces a greyscale image and converted it into a duotone 2 color process. Wonder how I change a lotta the text? A lot of rubber stamping on Photoshop! (click and clone, don't brush left and right)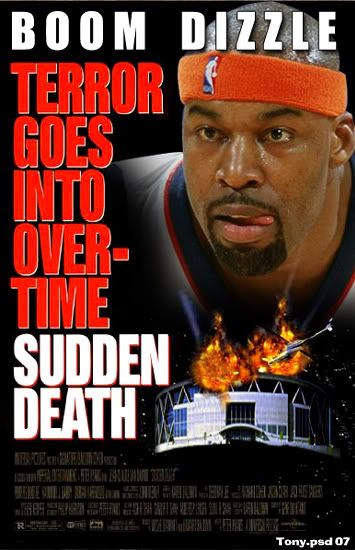 "Sudden Death" starring Baron Davis. I wasn't lying when I said I love Van Damme films. I own about 90% of his library on DVD, and most of those DVD's were bought at the Walmart bargain section throughout the years. Sudden Death is up there as one of my favorite movies because it's an action film that takes place in a sports arena. There are fight scenes in the restrooms, the back of the concession stands, the locker room, the luxury seats, even inside the tunnel. What better movie to have BD and the Oracle Arena in than Sudden Death! FYI that's a Helicopter exploding next to the Arena for all you sensiitve folks.

Bonus! Thunder's GSoM Registration I never got to really post this aside from a few comments on some blog posts, so it's only right I show it a little love. Kanye West's Late Registration is one of my favorite albums.