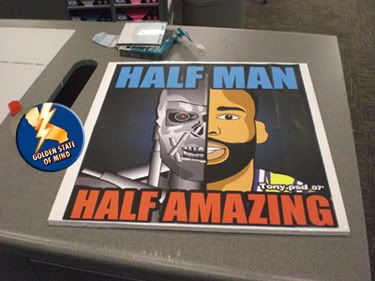 Tony.psd will be rocking the Roaracle with these badboys on national TV!
Warriors (W-L): 0-4
Mavs (W-L): 3-1
Time: 7:30pm PST
TV: TNT
Radio: KNBR 680
When it rains, it pours.  A slow start, a sputtering offense, and a defense that looks swiss cheese look as thick as the Great Wall of China.  Furthermore, injuries are piling up already with Barnes out with a sprained finger and Ellis and Azubuike both probable.  
But let's try to put all this into perspective.  The Warriors 0-4 start matches the beginning of their arch rival's start last year that ended in one of the best records in NBA history.  Perhaps they'll have the same trajectory as them?  Well, they face THAT team tonight, the Dallas Mavericks, in their first showdown since last May, where the Warriors "served" them on televisions across the globe.  PLUS, historically, the Warriors are to the Mavs as Kryptonite is to Superman, expectations are to Mike Dunleavy Jr., Mike Dunleavy Sr. is to Mike Dunleavy Jr., and lactose-based foods is to my body.  And even if we do lose, at least the Warriors will be seen nationally on TNT for all those folks outside the SF Bay Area in the continental U.S. who are getting screwed by Comcast.  It's Comcastic!
Anyway, this highly anticipated bout of epic proportions (we're talking Rocky vs. Apollo creed big in Rocky II) might not live up quite to the hype as both Warriors and Mavs are without some of the names that made this rivalry possible last year.  No JRich, no Barnes, no Jax, no Josh Howard (injuries...thank god!), potentially no Devin Harris and Erick Dampier (not that he actually matters anyway).  But I guess regardless, the new folks on both teams can be the surrogates to the history between these ball clubs.  They're like the Latino boy band, Menudo, I guess.  Or Destiny's Child for you children of the nineties.  
The Warriors need this game more so than the Mavs need to beat the Warriors -- which is a lot.  A win over the Mavs at this point in the season would give this young team some confidence that it can step up in times of crisis.  Can AZ be JRich and dunk all over people?  Will Pietrus play the role of Jax and shutdown Dirk -- emotionally -- as well??  Can Davis channel his less pressing side and trust his teammates to make big plays???  Will the POB vs. Dampier matchup seem like some weird projection of POB's future self???? Will a random Mav (J.J. Barea) kill the Warriors?????  
We'll just have to tune in tonight to find out.
Predictions:
* Warriors by -5
* Nowitski gets dunked on ... TWICE!
* J.J. Barea is the next Steve Nash ... for one night only.
* Sportscasters make some awkward comments about the Warriors, inaccurately pronouncing names.
What are your predictions for the game?  Any thoughts?  Post them in the comments before, during, and after!
Update [2007-11-8 18:17:51 by dj fuzzylogic]:
Also: Check out our good friends over @
Mavs Moneyball
for the rival's take on how its going down.