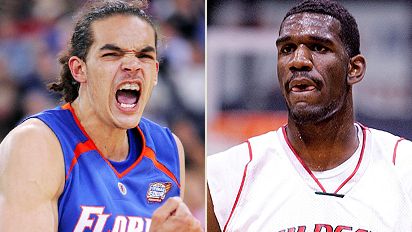 Game Time: 6:20p
This one should be a lot of fun. You have some of the top talents coming out for the 2007 draft in this game. These are guys the Warriors could potentially draft. For Ohio State you have Greg Oden, the potential #1 pick. He teams up with Mike Conley Jr, a potential top 15 pick. On the other side, for Florida, you have Joakim Noah, last year's surprise player, Al Horford, Taurean Green, and Corey Brewer, all with top 15 potential. There's a lot of talent playing tonight, and I'm sure a lot of NBA scouts will be watching. The big games are where the real players come out to play.
Aside from that, Florida is looking to make history by being one of only a few teams to be able to repeat as champions in college hoops. On the other hand, Greg Oden looks to duplicate what Carmelo Anthony did at Syracuse and lead a team to a national championship as a freshman. Who's going to win?
Vegas Odds: Florida by 4.5
GSoM Predictions:
Ohio State wins by 3
The #1 pick in the 2007 draft owns Joakim Noah
Over 50 comments on this thread.
Make sure to give us your predictions in the comments before tip off and post any comments you have during the game right here.