Most NBA teams don't have a clue about handing out contracts and managing the salary cap. Erick Dampier at $73 million over 7 years for that "amazing work ethic"? Rashard Lewis at $110 million over 6 years for a scorer averse to D that has never even been the best player on his own bad team? Adonal Foyle at $42 million over 6 years for blocking his own dunk attempts? Brian Scalabrine at $15 million over 5 years for having what clueless Danny Ainge considers the "right" brain type? Mike Dunleavy at $44 million over 5 years for all those airballs and Funleavy Foto Fun? Marc Jackson at anything over anything for simply being "Unstoppable, baby!"?
Oh my.
Well, thankfully the GSoM team has managed the salary cap extremely well since day 1. I know you'll be shocked to hear this but Fantasy Junkie, DJ Fuzzy Logic, Hash, Yaobuttaming, and I are all blogging for the veteran's minimum right now. (Speaking of which I really do need to hire Dunleavy's agent. He should be able to get me an Allan Houston-type deal!)

Oh, we've been saving up for this!
Because of the effective management of the GSoM salary cap, we've been able to bring on a superstar. Next to getting K to the G or adding to the already supa fly Warrior Girl crew, this is by far the best thing that could happen to Warriors Nation worldwide.
Honestly this good man needs no introduction to the GSoM faithful, but we always like to bring the hype like Public Enemy here and tonight's no different. Ladies and gentlemen please put your hands together for the one and only...
Tony, the artist formerly known as Drawlz600 here on GSoM, is a highly touted professional Publisher/Technical Illustrator/Designer who hails from the Bay Area. He recently worked for the San Jose Sabercats and used to drop art hotter than the Saberkittens on the regular. Tony's artwork has received a ton of local attention and even several plugs on the national scene. His work is undoubtedly in the long standing GSoM tradition of being truly Unstoppable Baby!
(Yes, I obviously have no problem whatsoever paying the luxury tax so we could bring on Tony.psd to the GSoM crew.)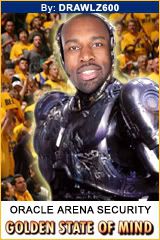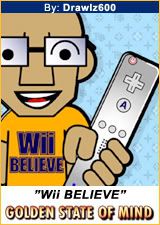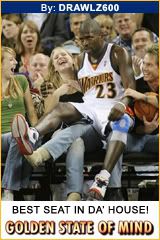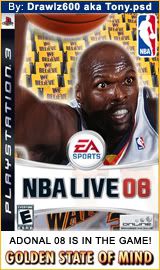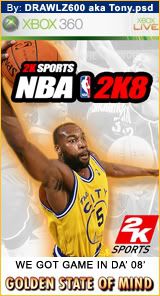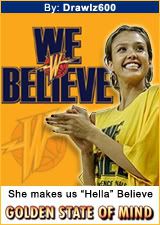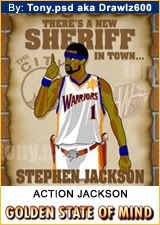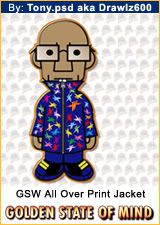 In the 80's and 90's Michael Jackson was the King of Pop. In the 2000's and beyond we'll look back at Tony as the King of Warrior graphics.

Don't even trip Chuck- Tony will hook you up with even more of that Bay Area flava.
It's been a little over 2 years since we've been running this show and we've actually never added a regular contributor to the front page blog, so this is pretty big. After the sorry Utah Jazz fans acted like barbarians in the snoozefest that was the 2007 Western Conference Finals between the Jazzless and the San Antonio Snores, I dropped a piece The NBA Has a Fan Problem. Tony dropped this comment:
Utah's signs suck
Honestly, I really hate Utah's signs. During the playoffs, I remember going 2 our Arena seeing signs of joy and just bein' happy to be in the post season- that and a ton of Barkley Signs! I was notorious for creating signs for the Fans and our team... something that showed our appreciation. Because that's how a lot of us felt. I didn't wanna waste my time knocking on Dallas or Utah, I wanted to show GSW the appreciation out fans had towards the team... The Dallas series didn't bother me... but when I saw lame drawings of Jackson in a Jail suit or Baron crying in Utah... that was heartless. The Yellow We believe shirts utah fans also wore were low and classless. Oakland doesn't have much, you can see the poverty and pain just outside the arena. But when the Warriors started rallying and winning, you could see hope in the city. People all over the city were happy. That's why me and so many others believed. Our city was happy, and it gave us reason to believe. If you go 2 Yahoo sports or any other sites, all the Fan designs are corny, they all take shots at Tony's wife Eva and bash on San Antonio using sharpie markers for their 2 seconds of fame... Maybe Utah fans should give something back to their team instead of taking shots at the opposing teams.
I believe that at the core of GSoM's DNA you'll find optimism, loyalty, realism, consciousness, and a smile. When Tony shared those thoughts with us, it hit me both how in line the man was with us philosophically and how great GSoMers at large are. That's golden.
With Tony on board as the official head Graphiclogger of Golden State of Mind we're taking things to a whole 'nother level at GSoM..
Web Pins Like Whoa!
Fantasy Junkie and I used to run an extremely popular GSoM Wednesday Warrior Web Pins section that we couldn't maintain with the tremendous growth of this community in addition to our writing, but with Tony.psd it's back! Oh it's back baby like Chili's baby back ribs. Tony's special weekly graphic showcase here at GSoM is going to be so whoa even Black Rob is going to say "Like Whoa!"

Mo Media Not Mo Problems
Wallpapers, comics, artwork, you name it- Tony's the man. A lot of you have been requesting this stuff for years. With all these added visual goodies GSoM will make you say "Baby-baby-baby!" like the late great Biggie Smalls!
GSoM Gear Flyer than Wu Wear!
Being the respected fashion gurus that we are here at GSoM it's really no surprise that since its inception items at the GSoM Store have been moving faster than Knicks center Jerome James at a buffet line. The good folks at CafePress are even considering changing their name to GSoMPress because of all the hot GSoM threads and lifestyle items they've had to print this past year.

Drop a line in the comments to sign up for the wait list for the GSoM Wii Believe tee!
On a side note DJ Fuzzy Logic thinks his authentic GSoM jersey would fly off the shelves faster like the Nintendo Wii. I could see that as well as Hash and Fantasy Junkie's "Junkie" version replica jerseys striking a special chord with the green-thumbed GSoM faithful. But me? Naw I'm the People's Champ. I'm going Starbury One's ("It's gotta be the shoes!") with my replicas, swingmans, and even authentics. I'm hoping to be able to release my "Atma" jersey exclusively to the 99 cent stores nationwide.

Boom Dizzle models the forthcoming official personalized GSoM jersey.
What slammin' artwork will Tony.psd drop next here at GSoM? Man, even I don't know! Keep it locked on Golden State of Mind...
Make sure to show the newest member of the GSoM crew a golden welcome in the comments!