24 packs in every Box! Look for em' every week on GSoM!
We're back at it again! Web Pin Wednesdays is in full effect! If you've browsed around our site lately, you'll notice some new webpins showing up from our very own GSoM Members! Great job everybody!

Feel free to drop me a submission via e-mail. (tonydotpsd@gmail.com)  If I see a new web pin throughout the site, I'll be sure to plug it here for the weekly rotation. If I miss your work, give me a reminder and I'll post it up next week.

Peep The Web Pin Showcase after the Jump!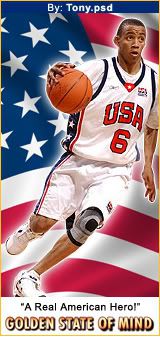 GSoM Warriors Web Pins... Think of them as digital refrigerator magnets. They make excellent  GSoM signatures, fun desktop images, cool rotating screensavers, hot IM avatars, fly MySpace profile add-ons, and great conversation pieces.
Got a Web Pin? We know there are a lot of skilled Photoshoppers and graphic artists in the GSoM community, so definitely email us your own GSoM  Warrior Web Pins or post them in a diary and we'll give your work some of that good ol' GSoM love and airtime on the main page. Keep the width at 160 pixels and make sure that it's all good for our family show. There's really only one rule- it has to be FUN. Here's a template (Photoshop file) to get you started.
If you're a digital image rookie, have no fear! Just email us a great image with your caption and BAM!- I'll get your Web Pin assembled.
Send us your Warrior Web Pins or requests to tonydotpsd@gmail.com with the title "GSoM Warrior Web Pin- SUBMISSION" or "GSoM Warrior Web Pin- IDEA". Wednesdays just got more creative!