I like to think of GSoM Web Pins as collectable basketball cards you place inside your 9-Pocket Sheet Binder and show off to your buddies at school. Since we're living in the digital age, our GSoM Web Pins don't need to be sold in packs. You see GSoM web Pins floating around Community Diaries, Front page GSoM articles, myspace pages and e-mail attachments with the Golden State of Mind header branded below each creative image (by GSoM regulars). People creating Web Pins (and other formats of creativity even without the Web Pin Template) are doing their part in catching peoples attention and getting others to visit our dedicated site for The Golden State Warriors. Call it eye candy or free publicity to our team and artists, but with our Web pin community of illustrators, designers and creative art heads we'll continue to raise eyebrows and make Golden State of Mind a fun place to blog and get creative!

"Read more" (down below) and check out this week's new Web Pins from members of our GSoM community! We also have new wider formats for those Horizontal contributions. This week's set is a collection of Web Pins and non-formated creative pieces placed in our GSoM template to give it that "branded" look! Enjoy!
Word up! Check out the new horizontal formatted Web Pins!
...and of course... the standard GSoM Web Pins!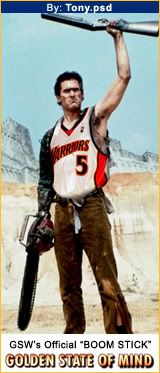 GSoM Warriors Web Pins... Think of them as digital refrigerator magnets. They make excellent  GSoM signatures, fun desktop images, cool rotating screensavers, hot IM avatars, fly MySpace profile add-ons, and great conversation pieces.
Got a Web Pin? We know there are a lot of skilled Photoshoppers and graphic artists in the GSoM community, so definitely email us your own GSoM  Warrior Web Pins or post them in a diary and we'll give your work some of that good ol' GSoM love and airtime on the main page. Keep the width at 160 pixels and make sure that it's all good for our family show. There's really only one rule- it has to be FUN. Here's a template (Photoshop file) to get you started.

If you're a digital image rookie, have no fear! Just email us a great image with your caption and BAM!- I'll get your Web Pin assembled.

Send us your Warrior Web Pins or requests to tonydotpsd@gmail.com with the title "GSoM Warrior Web Pin- SUBMISSION" or "GSoM Warrior Web Pin- IDEA". Wednesdays just got more creative!