Let's build a GSW Community of animated characters... and duke it out with the Nintendo Mii Folks on Wii Sports!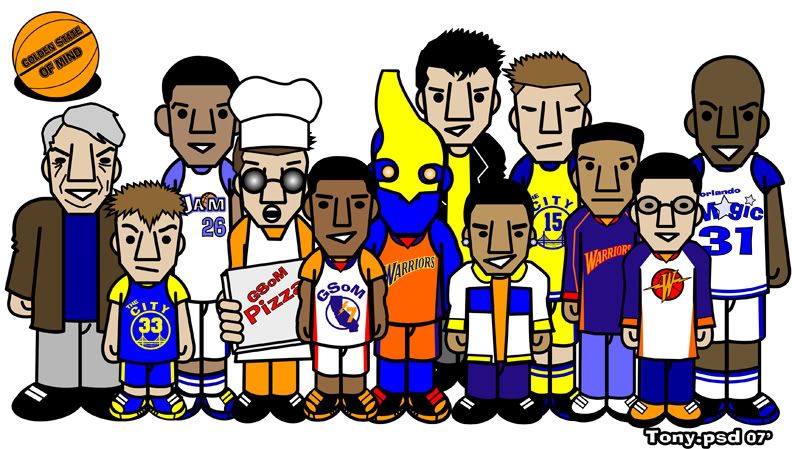 GSW Players and Fans... always rockin the flyest Gear!

I know you've seen these little guys in the past, and when I first started drawing for GSoM I originally wanted to do a How to draw GSW cartoons. Problem is... when I got started I wasn't sure who I wanted to draw... what would they be wearing... Home Jersey? Away Jersey? City Jersey? Yellow or blue? Would it be fair if I did this? Will so and so get mad if I do that? So this past week I decided to draw a couple of these folks... a few hours later I ended up drawing more than just the players... I did a Warrior Girl, recently traded players and even the staff at GSoM! So I figured it out... Just for kicks, let's do up the entire GSW community and see how many of these familiar faces (we always see at games) I can draw up! The fun part of this drawing session was seeing the different kinds of apparel I had the opportunity to recreate. I have a number of em' and wish I owned the one's I made up!

I know... I know... I've heard it all... "these caricatures are pretty easy to make... I bet it doesn't take too much talent to make em' up... it only takes you 10-20 minutes to draw one of em', why don't you do something more challenging... I seen these cat's drawing style similar to the Pharrell album cover "In My Mind" (which sad to say, sucked- how many of you bought it? and how many of you ripped off the style too?!?) So I asked myself this... How many of you guys are willing to draw up the entire GSW Community in this similar drawing style?!? With different segments You'll be seeing everyone from the Team players- current, old, new and recently traded. (don't worry, Ellis, Barnes and many others will appear in the next segment) The Oracle Staff, GSW Fans, Vehicles, training area's, The Oracle Arena, shoot- even our enemy's and friends to GSW... the coaching staff to alternate costumes! (300 Baron Edition, TMNT Harrington, Nelly in Pajama's...) Let's have fun with this and share it to the world. (ala GSoM)
There's more after the jump as I break down this week's line up! ENJOY!
GSW Community and friends! Session 1's line up... 25 deep!


Yep... Golden State of Mind's Creative Writing Staff! Doing more for Your Golden State Warriors... We GSoM!"


Even Franco Finn Rocks the spot... I'm gonna make it happen before the season... GSW All over Print Jacket! Coach Nelly... welcome back! Had to show P.O.B. some love... Andris goes hardwood...classic!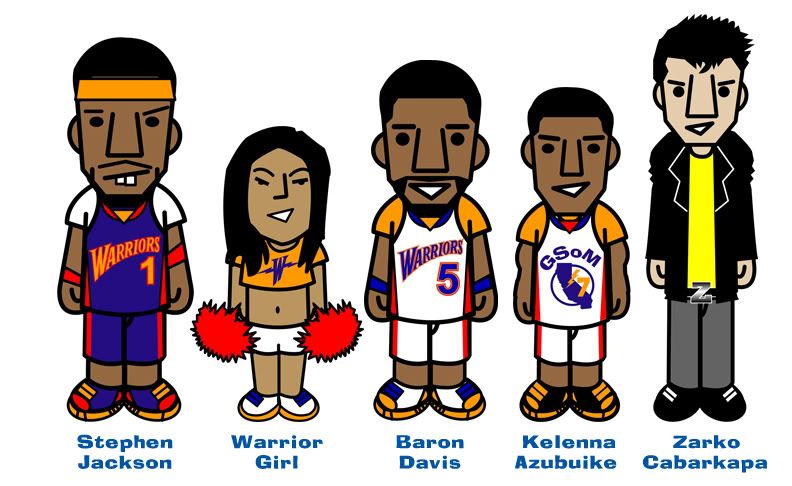 What's up with Action Jackson's teeth?!? Love em' or hate em'... a Warrior Girl! Boom Dizzle Rockin' a home Jersey while Kelenna reps a GSoM Home Jersey... Ahh, Zarko... always well dressed on the bench (just how I remember him!)


J-Rich... forever a Dub... currently a Bobcat. Thunder rocks the spot at Oracle arena (and a fly Orange Jersey!) Sarunas... Love the hair! Mullin... bringin' back the dope jersey from way back when... THe Hoop troop guy needs to hit up the upper level more often!


Special guest... Yao Ming! (Adonal's buddy) Adonal Foyle... showin' us Magic... GSW's newest addition... Brandan Wright! Al Harrington modeling for Hanes lol.