If it really happened... You got our vote Nellie! We Believe for the 08'!
Just havin' a little fun with this. Who else would take the time and draw Coach Don Nelson? Our man of the hour who recently came to terms with his new contract. This goes out to GSW fans old and new. I love drawing fun, action filled GSW drawings of our courageous players but I decided to take a step back and draw our leader! By now you guys have an idea on how I do my illustrations (peep my section Golden State of Design for past step by step drawing sessions of Warrior players past and present) I use Adobe Illustrator and the file is rendered as vector art. I break my drawings down into outlines, shading, colorizing and than merging all the layers together. As for the campaign thing... I did it just for kicks. There's so much trust in Nellie's game plan and how he brought us to the playoffs, His leadership is a great example of a good Candidate leading us to victory. (or at least the second round of the NBA Playoffs after a decade long drought!) Here's to Coach Don Nelson! (You'll definitely be seeing a sign design of this at Warrior Games!)

...and here's a little bonus piece I whipped up ala "Sin City!"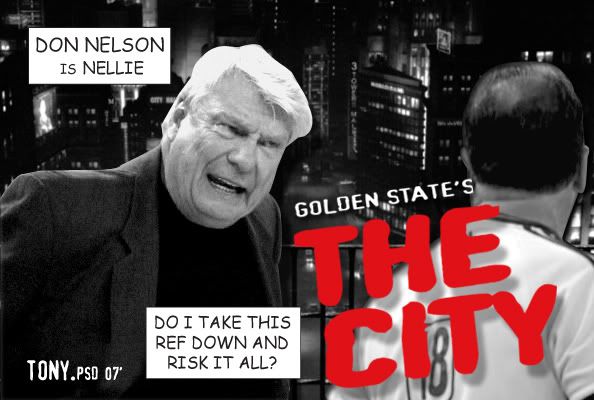 There is no justice without... Nellie. (LOL!)