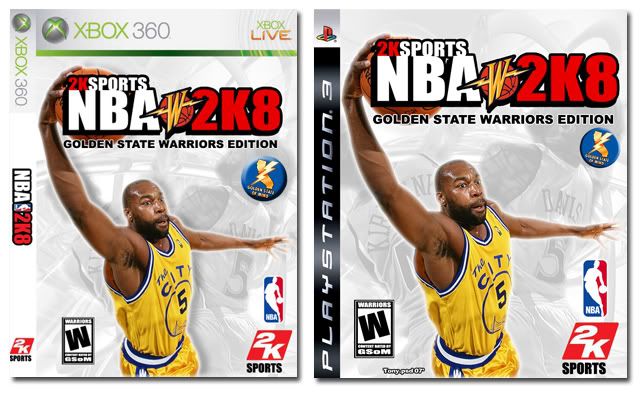 2K8 Basketball Fans rejoice! Tony.psd and GSoM remixed the cover to NBA 2K8 for the XBOX 360 and PS3!
First and foremost no disrespect to Chris Paul for making the cover of 2K Sports: NBA 2K8 Basketball. He's young, gifted, talented and deserved it. But in the Valley of The Golden State, we all wanted our very own Boom Dizzle to be on the cover of NBA 2K8. You've seen the webpins and the diary's of fans wanting Baron on the cover, and I even put together little comps of what it could look like. With the release of 2K Sports' most anticipated NBA 2K8 Basketball game yet, I've decided to recreate and "remix" an alternate packaging of NBA 2K8 for the Xbox 360! That's right- and it's ABSOLUTELY FREE! (Game not included of course!) You wanna rock a Warriors branded NBA 2K8 cover instead of the standard cover? It's right here on GSoM and it's free! All of the info featured on the back is accurate, I got the game specs from 2K's official site (and so are the pictures!)
Simply download the file below and print that puppy up in your deskjet printer. The filesize is set to dvd packaging standards and should print on 8.5x11 paper. With my resources limited to web quality references with low res images, the file is set at 150dpi (as to 300dpi), but it prints nicely on deskjet printers set at Great quality printing alongside photo paper. Like I said, the alternate cover is free and is for promotional use only. I have no plans on making money off this as that would be illegal. Consider it a gift to GSW and 2K8 Basketball fans everywhere! If you have any questions on how I laid the cover out or why I chose specific pics, feel free to let me know. Enjoy!
For XBOX 360 Heads... The NBA 2K8 Alternate Cover with Baron on the Cover!!
For Playstation 3 Heads... The NBA 2K8 Alternate Cover with Baron on the Cover! (as promised!)

Don't miss: NBA 2K8 Review: GSoM EXCLUSIVE!