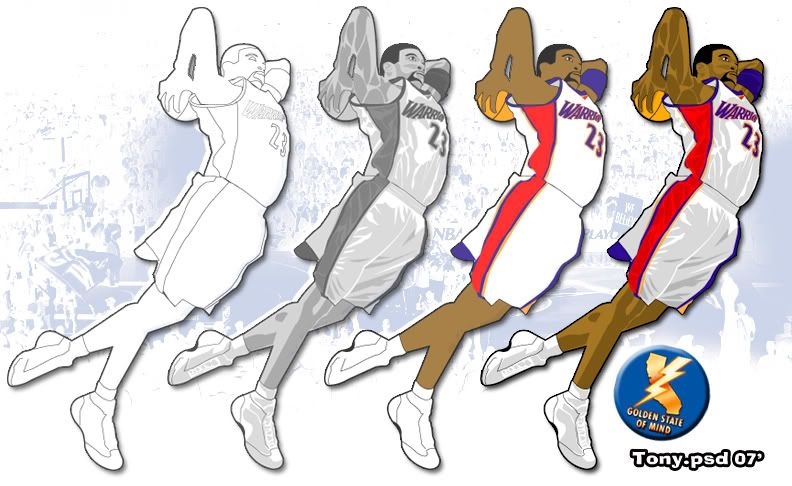 I couldn't just let J-Rich leave without doin' up a Tribute How to Segment dedicated to Jason Richardson!

Word up! This project has been a long time coming and isn't your ordinary "How to draw... with Tony.psd" session, it took a lot of preparation to make sure I did this right, it's Jason Richardson! I wanted to wish him off right and get him animated! This time around, I split the drawing concepts into 2 pieces, bringing out J-Rich's High flying acrobatics (top illustration)and an emotionally charged J-Rich during this years playoffs. (bottom illustration... I didn't use any pics of J-Rich holding basketballs lol! I learned my lesson!)


Bonus Illustration by Tony.psd! Thanks for the memories J-Rich! You were truly a fan favorite!

"Read More" and find out how I break down my fundamental Illustrator skills in creating GSW drawings. If you haven't seen my past drawing sessions (How to draw "Al Harrington" and "Monta Ellis") I'll break it down in four easy steps after the jump!

1) Outlining The J-Rich Dunk. The 1st step... outlining the drawing is one of the easiest steps to start with because you're setting up color fills within his clothing and along his body. It doesn't have to be perfect but outlining the shapes to make sure it looks like he's ready to dunk is a must. For me, I use the pen tool on Adobe Illustrator... I go dot for dot intersecting lines between the points. (Think of it as dot-to-dots) If you're comfortable using the Wacom pen tool, by all means- use it! For some reason I've become very comfortable with my one button Apple mouse in creating these digital Illustrations. Whatever floats your boat. : )

2) Shading J-Rich. Shading consists of solid grey toned shapes overlapping the color fills to give it depth and some shape. I am not the biggest gradient fan, and I prefer using transparent blacks set at 20-30%. It sets off a nice tint (esp. his brown skin tones) as to a solid grey toned color with its opacity dropped. Shading is the fun part of my work that separates and gives form to pieces of the puzzle. It distinguishes the drawings shape and form.

3) Coloring J-Rich. You're almost done! Coloring separates everything apart within the outline and the shading concepts. Sometimes I drop in the color after the outline and hide it so I can see what and where I am shading. I always set certain colors 20% lighter than what my screen captures because when I print documents out, whether it be Kinko's or a laser jet printer, it outputs darker. Think of it as coloring with a crayon... but with a click of the shape... and selection of the fill. Also, I do all of my drawings within 1 layer, and use selection locks and hide shapes a lot...

4) Putting steps 1-3 together on J-Rich. The outlines are complete with color  tones implicated where it should be. Shades of black transparencies over a 20-30% tint give detail and form to the drawing. Everything is coming together. Now you just need to proof check your work and make sure nothing was missed: overlaps, hidden shapes, shading below the chin, below the fingertips to the ball, shoelaces untied. (lol)  

Drawing GSW Players has become a hobby for me I enjoy very much. I am very grateful GSoM is giving me the opportunity week after week to share my skills with everyone on a how to basis. Illustrating (especially on a computer) takes years of practice and dedication. If at first you don't succeed, try and try again.  Using Adobe Illustrator isn't the only medium out there to use. Pick up a pen, pencil, a brush... use Photoshop or Corell draw. Adobe Illustrator is my preference as of the moment... but If I ever decide to use a sketch pad as my art board... or stretched canvases or even just opening up Photoshop, these are pretty much the principles I follow. Outline, shade and color. Remember to have fun with it! Don't stop... believing!