Make it a Blockbuster Night and recreate Hollywood moments with Dub players past and present!
Night after night we get to witness the finest "Pick n' Roll" in the NBA and with this Sunday's return of Mike Dunleavy and Troy Murphy I decided to put together these 3 little pieces for the occasion. Call em' "Starbuck Sessions" or "Killin' time... the Wifey's on her way home" quickies. When I see something on the net, I take a stab at trying to remix it and see what I can get away with. Sometimes, these .psd pieces (minus the illustrated Top Gun) can run about 20-30 minutes tops. When I can't find hi-res pics to make em' into signs, I make em' anyways and post em' on the web. Thanks to GSoM I have more time and a place where I can rock these parodies. Lets break em' down after the jump...

Stephen Jackson's Wingman to the right of him... Andris Biedrins!
Top Gun. I was listening to KNBR one morning on my way to work and overheard their reference to Andris and Jackson as being the "Goose" and "Maverick" of the NBA. I couldn't get the image outta my head, so I decided to put this comp together. I noticed when I Googled Top Gun or Maverick (Tom Cruise) every pic I got was of Tom givin' the Thumbs up. When I referenced pics of Goose (Cruise Wingman) I noticed that he never wore an undershirt. Bottom line, I just wanted to get our Dubz players in flightsuits, with killer blublocker shades-  a break from me doin' up traditional jerseys.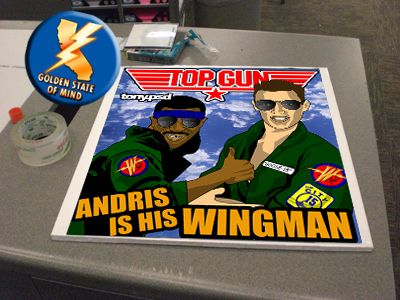 Top Guns' ready to fly for Sunday's Game!


Ummm... Yep, that's them!
White Chicks. The "Dunmurphy Sisters"... I've heard it a million times and the movie White Chicks came to mind! It wasn't exactly hard finding pics of Dunleavy on-line. Murphy took some time but the tricky part was making sure we got their heads proportioned right.

One of my favorite flicks of 07'... Imagine Thunder as a serial killer!
(Actually let's not- the Dude's always happy!)
Thunder Proof. "Death Proof" was one of my favorite flicks of the '07 (next to Superbad and Knocked up). When I thought about making a parody, I thought of the folks at GTOe. Let's get Thunder in that scary lookin' ride and lets use silhouettes of the Warrior Girls and add pom-poms to give em' that look. The fun part was just changing the words around to give it that overall look. I'm a big fan of Tarantino's artwork and posters, they're always so over the top looking!
Golden State Super Friends Update...
I finally added Matt Barnes as Hawkman (working on B. Wright as Plastic Man...) and I figured The Oracle Arena should be represented... as the Hall of Justice! I'm bringing this back again to the Indiana game, I sold the last sign (minus Barnes and the Oracle) to a nice man who hung it over his sons bed and used the money wisely in paying my water bill. (lol)