Taking it from the top (left) Azubuike (as The Martian Man Hunter, Harrington as Batman, Warrior Girl Alexis as Wonder Woman, Jackson as The Green Lantern, Monta  as The Flash, Biedrins as Aquaman and Baron as Superman!
An NBA and DC Comics Crossover? Only from Tony.psd and GSoM!
There's more after the jump as I breakdown the Tony.psd process.
A few months ago my, brother asked me if I was ever going to run out of ideas with with Warrior drawings. I thought about it and replied "No, I don't think so, I have this long list of ideas I've only begun to crack open!" I do what I do because I want to. I have fun with it and it relieves a ton of stress. (No joke!) I grew up watching a ton of cartoons, TV shows, movies of all genres and with my devotion of drawing Dubz characters, it's opened a huge gate of ideas, thoughts, and "what if" spoofs featuring everyone's favorite Warrior in alternate situations along entertainment. I've generated many of these concepts into signs and parody's all over the the Warriors universe (aka the internet, Myspace, GSoM, etc.)
My Justice League of America (DC Comics) parody featuring our favorites from the GSW line up is a special one. I vividly remember as a kid saying, "I wanna draw when I grow up... stuff like comics." Thanks to GSoM I'm doin' that and blending it with my love for Warrior Basketball. It's also going to be a sign for the Hornets game. This is one of those signs I am willing to wake up at 5 in the morning just to get into work by 7am so I could leave work at 4:30 to fight traffic and get to the Oracle Arena for Dubz shoot around around 6pm. It's one of those times I hope the guys see because it's an alternate look at the guys as Super Heroes... our Super Heroes! That and I sure hope it brings a smile out of everyone's face.. why? Cause smiling's healthy is yo!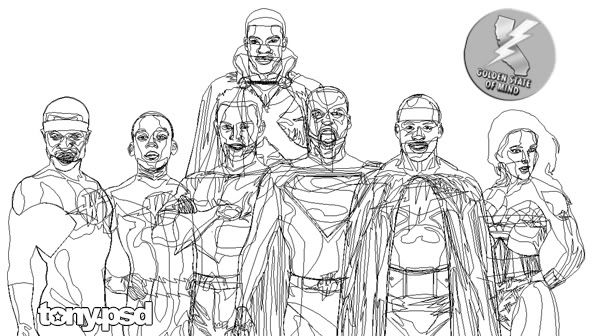 Yes... that was a lot of work. But well worth it!
After I did the Super Baron sign last week I wanted to ante up on my creative thoughts. I could picture Monta as "The Flash" because he's hella fast (that's a given). I would love to see Stephen Jackson as "The Green Lantern"- one of my favorite DC characters. Andris as "Aquaman"- no doubt. Haha the guy has the hair! "Batman" was a toss between Harrington and Barnes, (who I feel super bad for not adding, but wait till you see my X-Men sign with Matt as Cyclops for the next game!) I needed to give TMNT Harrington a break so he could be drawn in the bat suit. Who's "Wonder Woman"? It's none other than Alexis of the Warrior Girls (one of my favorites, flashing black hair). As for Azubuike, I think he'd make a great "Martian Man Hunter" he's a buff alien being that... um, fights. Haha that's all I see him do in the books! And Baron as "Superman". He's our leader and I just had to give it up!
The preview up top is Adobe Illustrator's preview mode that breaks up all of the layers within shapes which brings the illustration to life. Everything is a unique shape within a shape consisting of outlines, fills, transparency's, a few gradients and color tones. You get a feel for how many steps I put out to get these drawings out. The average character takes me about an hour give or take.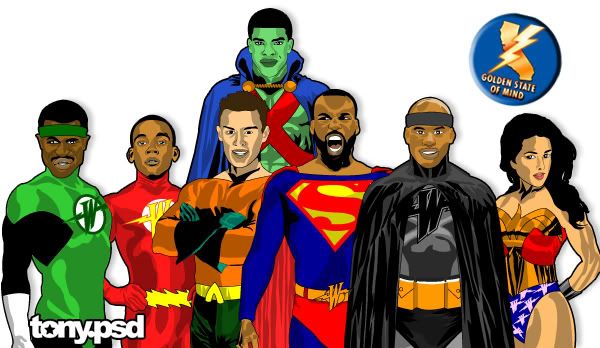 I've said it in the past, but here goes. I break everything down (the short version of my speech) into 3-4 easy steps. I draw out the outlines of each character as a wire frame and then I fill em' with color. I add transparent shadow tones (using black, opacity 30%) to give it its detail and stack the colors and shadowing accordingly.
I just love the diversity each costume has for each character. I've been so used to drawing consistent team colors, but this one is a class by itself- (and an extremely fun project I enjoyed doing) Call em' The JLA, call em' Super Friends, but they are our Golden State Warriors!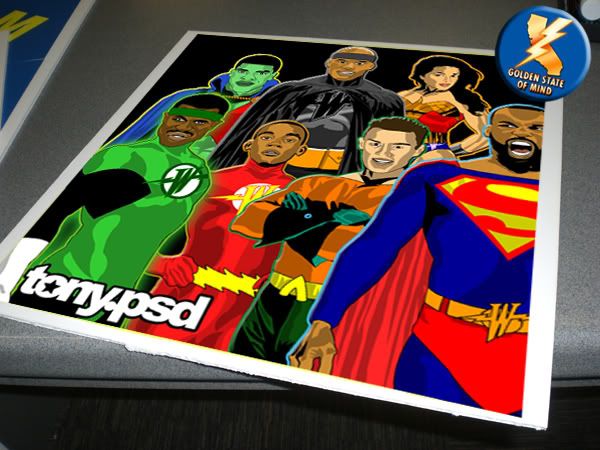 Look for me at the Dubz vs. Hornets game tonight!