4 new desktop wallpapers only available at GSoM. (Monitor not included)
Atma and I thought about this a long time ago. Why did it take so long to produce? I have no idea. I guess I just got caught up doing so many things at the same time, I didn't realize how easy it was to format my work into wallpaper pieces for the Golden State of Mind masses. You've seen my work all over GSoM and at Dubz games, now sport them on your desktop! The monitor settings are set at 1920x1200 for all of you wide screen people out there. The first 4 exclusives are personal favorites with more to follow. Let's set it off with everyone's favorite "Back to the Future" wallpaper featuring C-Webb and Nellie. There's also the "Rambo" Belinelli wallpaper and for the ladies... Monta's classic "They Said..." art. Speaking of classic, the "Throwback GSoM" logo is available for your desktop too.
Get your wallpaper after the jump! Exclusively from Tony.psd and GSoM!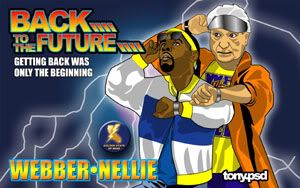 By popular demand... Back to the Future with C-Webb and Nellie! (wallpaper)


Only on GSoM... Marco Belinelli as Rambo! (Wallpaper)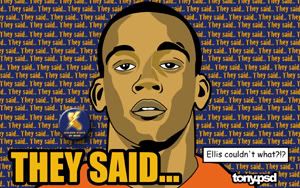 Monta's "They said what about Ellis?" (wallpaper)


The Classic... GSoM "The Blog" (wallpaper)