Oh Austin... shall we shag before or after the game?
I'm down to my last 4 games of the season! (including GSoM Night 4!) Renewal for next year's season and this years playoffs are just too much for me to commit to. (My seats literally doubled in price... the reality of blowing up!) With that in mind, I want to treat the last few great games of the season as if they were my last with an all out expoit in sign designs. During the Memphis, Houston, LA Lakers and Clippers game it's going to be nothing but new and fun signs for the fans of Golden State.
Movie related Warrior themes have been a big hit with fans at the Oracle Arena and throughout the internet. I've grown to enjoy placing our loved players in comedic spoofs that have even brought smiles to the organization and its players. That's what it's been all about for me and my sign designs at games. The appreciation through laughter and smile have been a big factor in why I draw what I draw. I've had some pretty stressful moments in my life that bring out the worst in me, but drawing has been an escape from reality for me to forget about the stress, the drama and anything else negative. So make a move after the jump and let me break down my new drawings to you!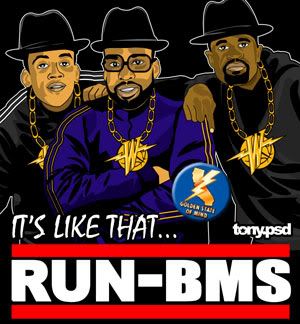 RUN DMC is such a universal icon within Hip-Hop culture. Bless us for having our own version on the hardwood floor, RUN TMC (back in the days). Let's flip the script and roll with RUN BMS! I've wanted to do this idea for the longest time. The name took some time in shuffling the letters to make it sound legit. Originally I favored RUN-DMS, MSB, SBM, JED and so on, but in the end I gave in to BMS. I wanted to draw Adidas Jackets, fat gold chains, top hats, funky glasses and I wanted Baron, Monta and Stephen sporting it. It's like that... and that's the way it is!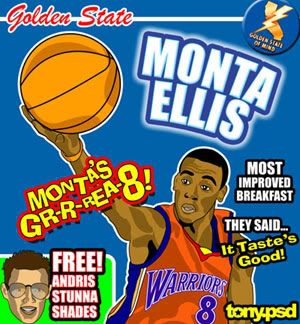 Breakfast time wouldn't be complete with out Frosted... excuse me, Monta Flakes! This was a fun one inspired by my buddy John. I like this piece a lot. My wife is going to use it Sunday during Fanfest to hook Monta in for a snapshot. Cereal boxes always have a positive packaging set up. It never says anything bad like... "It tastes nasty!" With that in mind I added some of the great moments in Monta's career like the "They Said" slogan, his "Most improved Player" award and a free gift from his buddy Andris. Wheaties maybe the "Breakfast of Champions", but Monta Ellis is G-r-r-r-ea8!
I believe it was Nautica's webpin and Croshere's breakout performance a few games ago (Seattle) that inspired this. I just wanted to have fun with this since Croshere looks like Powers! The words in the backdrop pokes fun of all the different lingo in and around Warriors Nation. Hopefully he doesn't get mad!
Until next time... I'll see you all at the GSoM 4!
But before I forget, feel free to check out my new site http://www.tonydotpsd.com/ for Warriors designs and beyond!