Take it to the court- GSoM and friends bring it on the hardwood floor!
First and foremost, we would like to thank everyone within the GSoM community that took part in GSoM Night 4! We represented 500 deep that night and couldn't have made it possible without your support. I know there were comments about seats being scattered across Club 200 (some all they way up top), but you guys made it out and represented. A special thank you to Chris Murphy, our ticket rep for accommodating  all of us and hooking up GSoMer's with a fly "Unstoppable Baby!" white T. Thanks to Chris for also giving the GSoM Crew along with our friends (including Zorgon!) some court time on the hardwood floor with the shot clock and scoreboard on hand. GSoM Night 4 was definitely a great time out and even though we lost against Houston, the game was hype.
Jump up and get down with the photo recap!
Let's set it off with an exclusive from GSoM's first Hardwood Classic matchup...

We got this guys. 1 Luv. 1 Dub!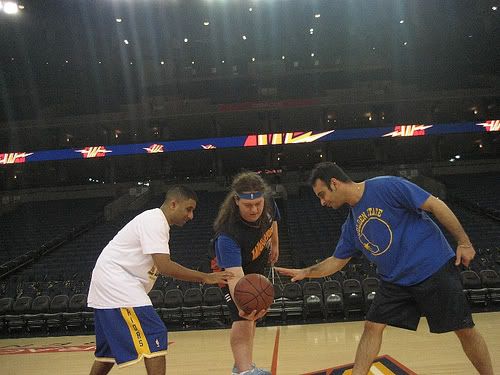 Tip off begins with Atma (left) vs. Hash (right) with Zorgon setting up the jump!

Shot clock winding down to 3 seconds. Hash fakes and goes for the 3...

IT'S IN! Hash wins the game! Do you believe now?!?!

The post hoops GSoM tradition tailgate party gets no better than this!

During the shoot around Mr. and Mrs. Tony.psd represent.

No way... is that?!? Could that be...


Yeah! That was John Legend singing our national anthem and doing the halftime show.

Club 200 never looked so good. Every seats a great seat!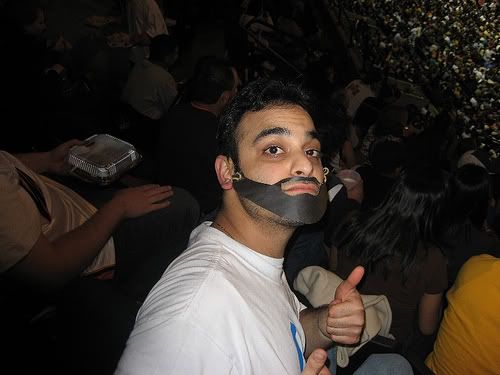 Beard break: Hash rocking the beard well.

Adam took a Golden Break during halftime to grow a beard!

GSoM Night 4 was also date night for many couples. Thanks for coming out.

These kids got flavor. Thanks for reppin' GSoM 4 to the fullest. You guys are Unstoppable Baby!
Thanks for coming out and we'll see you at GSoM Night V!!

Recapping the Night: