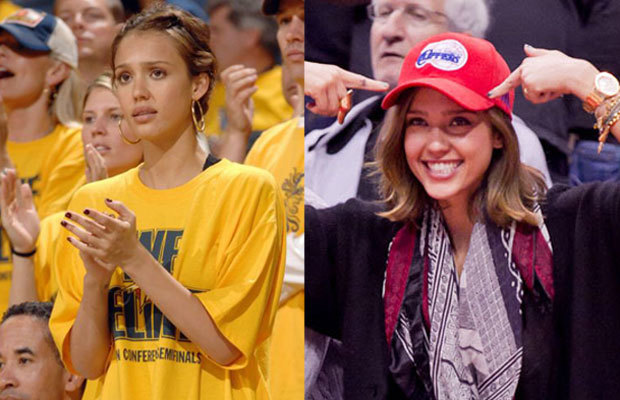 Yes, Jessica Alba can root for whoever she wants but what about Warriors fans in general, are they loyal or bandwagon?

My Opinion
After any sports team wins a championship the first thing people say is that nobody liked them until they won. I hear people (usually non-Warrior fans) saying nobody liked the Warriors until last season. I just find that hilarious and it's obvious it's come from a place of jealousy or ignorance. Personally, I've been a fan of the Golden State Warriors all my life since the early 90's. Just because the Warriors are dominant hasn't changed the way I view this team. I don't view them any different compared to all those losing years and it's a humbling experience to be where we are at. It's not like omg, the Warriors are so good I'm all of a sudden a huge fan. No, and if they were losing I wouldn't say forget them, I ain't watching. I've gone to games for years and I can tell you that Warrior fans are one of the most loyal, unconditional, and best fans out there. They were supporting before there first playoff run with Baron in '06-'07 and in between till the first playoff run of the Curry era in '12-'13. Sure, the support is magnified right now but that comes with success.
There Definitely are Bandwagon Fans Out There
I've seen them, most noticeably on the road. I've seen a lot of people wear Steph Curry jerseys with a combo of their home team's color. My first thought is what are you doing? Are you a Warriors fan or not? But then I realize a lot of these people are mostly Steph Curry fans. Just like Kobe, MJ, and Lebron people become fans of that particular player.
I'll admit sometimes it's frustrating seeing these new Warriors fans but if people outside of the Bay Area want to see and root for us that shows how far we've come. Not many teams have popularity outside of their home base and Dub Nation has spread across the world. We should be honored that people all around the world know who we are and love watching us. Sure there are bandwagoners out there but hey the more the merrier. I don't really have a problem with it. Does it really matter who is more of a real fan or not? No. Just enjoy the ride we are having.